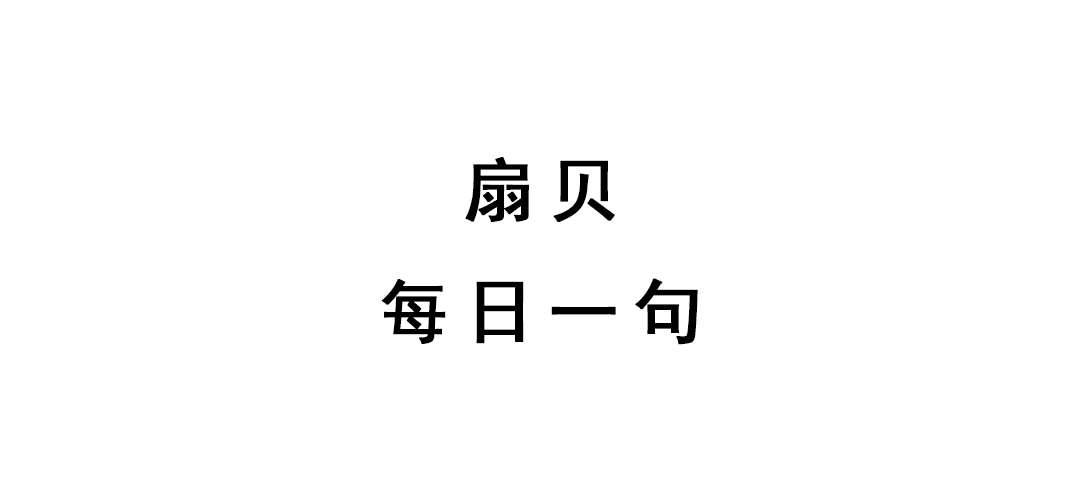 扇贝-每日一句
扇贝-每日一句
We don't want to tell our dreams.We want to show them.
我们不想把梦想说出来,而是想展现出来。
The secret of discipline is motivation.When a man is sufficiently motivated,discipline will take care of itself.
自律的关键是动机,当一个人的动力足够时,他自然就能自律。
To fall in love with yourself is the first secret to happiness.
爱上自己是通往幸福的第一条奥秘。
The most beautiful discovery true friends make is that they can grow sparately without growing apart.
朋友间最美妙的经历,莫过于成长道路不同,却并不因此生出隔阂。
To accept ourselves as we are means to value our imperfections as much as our perfections.
所谓接受自己,意味着既重视自己的完美,也珍视自己的不完美。
An animal's eyes have the power to speak a great language.
动物的眼睛有一种神奇的力量,诉说着千言万语。
Let your joy be in your journey — not in some distan goal.
让你的喜悦来自旅途中,而非一个遥远的目标。
A warm smile is the universal language of kindness.
温暖的笑容是放之四海皆准的善意表达。
Travel and change of place impart new vigor to the mind.
去新的地方旅行,能让思维换发新的活力。
Do you want to meet the love of your life? Look in the mirror.
想见见你的毕生所爱吗?看看镜中吧。
A poet is a man who puts up a ladder to a star and climbs it while playing a violin.
诗人就是对着星空搭起天梯,然后边向上爬边拉小提琴的人。
Until you start believing in yourself,you ain't gonna have a life.
直到你开始相信自己,你的人生才真正开始。
Don't tll me the sky's the limit when there's footprints on the moon.
别对我说天空就是极限,毕竟连月球上都有了人类的脚印。
The best day of your life is the one on which you decide your life is your own.
你生命中最美好的一天,就是你决定让你的人生属于你自己的那一天。
You may forget with whom you laughed,but you will never forget with whom you wept.
你可能会忘记和你一同笑过的人,缺会永远记得和你一同哭过的人。
Everything you've ever wanted is on the other side of fear.
你想要的一切,都在恐惧的彼端。
Twenty years from now you will be more disappointed by the things that you didn't do than by the ones you did do.
二十年后,比起你做过的事,你会更遗憾于那些你没有去做的事。
Autumn,the year's last,loveliest smile.
秋,四季流转中最后一抹、亦是最美的微笑。
When life is sweet,say thank you and celebrate.And when life is bitter,say thank you and grow.
日子愉快时,道声谢谢,庆贺吧;日子苦难时,道声谢谢。
You know it's love when all you want is that person to be happy,even if you're not part of their happiness.
爱是,你只想要对方快乐,即使这快乐里不包括你。
Speak your mind even if your voice shakes.
勇敢说出你的想法,哪怕声音会颤抖。
There is meaning in every journey that is unkonwn to the traveler.
每段旅程里都有不为旅行者所知的意义。
Rivers know this:there is no hurry.We shall get there some day.
河流知道这一点:无需匆忙,我们终有一日会到达。
Growth begins when we begin to accept our own weakness.
成长始于接受自己的弱点。
It is love that will heal you.It is what heals us all.
爱会治愈你,会治愈我们所有人。
Education is not the filling of a pail,but the lighting of a fire.
教育不是注满一桶水,而是点燃一把火。
Friendship is the breathing rose,with sweets in every fold.
友谊是鲜活的玫瑰,每一道褶皱里都溢着甜蜜。
One never knows what each day is going to bring.The important thing is to be open and ready for it.
谁也不知道每一天都回带来什么。重要的是要敞开心扉,做好准备。
One of the best things in life is seeing a smile on a person's face and knowing that you put it there.
人生最美妙的事情,莫过于看到他人脸上的笑容,是因你而起。
If you have to put someone on a pedestal,put teachers.They are society's heroes.
如果必须推举偶像,那就推举老师吧,他们是社会的英雄。
Live each days as if your life had just begun.
把每天,都当做声明刚开始一样去过吧!
Gardens are not by sitting in the shade.
光在树荫下坐着,是建不成花园的。
Success is what comes after you stop making excuses.
当你不再找借口,成功才会到来。
Your relationship with yourself sets the tone for every other relationship you have.
你和你自己的关系,会奠定你其他任何一段关系的基调。
Everyone shines,given the right lighting.
在合适的光源下,每个人都会发光。
It's easy to haren your heart.But to open it,that's the toughest thing you can do.
让心硬起来很容易,而敞开心扉
While there's life,there is hope.
生命不息,希望不止。
Never give up,Expert only the best from life and take action to get it.
永远不要延期。要永远只期待最好的事物,并为之付出行动。
Life is a pure flame,and we live by an invisible sun within us.
声明是一束纯净的火焰,我们依靠内心看我不见的太阳而存在。
The way we talk to our childern becomes their inner voice.
我们跟孩子说话的方式,会变成他们内心的声音。
You have to learn that if you start making sure you feel good,everything will be okay.
要明白,如果让你自己感觉好起来,一切就都会好起来。
The beauty seen, is partly in him who sees it.
所见之美,部分存在于观众眼中。
Well done is better than well said.
说得好,不如做得好。
This universe is not outside of you.Look inside yourself;ererything that you want,you already are.
宇宙并不在你之外。看看自己的内心吧。你想要的一切,都已尽在你身。
Always be a first-rate version of yourself,instead fo a second-rate version of somebody else.
永远要做第一流的自己,而不是第二流的他人。
Love is what you've been through with somebody.
爱,就是你和某个人一起经历的一切。
Encourage yourself,believe in yourself and love yourself.Never doubt who you are.
你要鼓励自己、相信自己、爱自己。永远别怀疑你是谁。
Everyone needs a house to live in, but a supportive family is what builds a home.
人人都需要有屋栖身,但拥有支持自己的家人才是有了家。
If you have the ability to love,love yourslef first.
假如你有去爱的能力,请先好好爱你自己。
Faith is the brid that feels the light and sings when the dawn is still dark.
信念是一只鸟,在黎明仍昏暗之时,就受光明引领而歌唱。
It's never too late to be what you might have been.
成为你所要为的人,永远都不嫌迟。
To the world you may be one person,but to one person you may be the world.
对世界而言你或许只是某个人,但对某人而言你或许是全世界。
Some people dream of success, while other people get up and make it happen.
有些人只是梦想去成功,而其他人却起身让梦想成真。
Success is not the key to happiness.Happiness is the key to success.
成功并不是快乐的关键,快乐才是成功的关键。
The world is extremely interesting to a joyful soul.
对于欢欣的灵魂而言,世界充满了奇趣。
They can because they think they can.
他们可以,是因为他们相信自己可以。
Instead of wondering when your next vacation is, maybe you should set up a life you don't need to escape from.
与其期盼下一次假期,不如创造不需要逃离的生活。
Nothing great in the world has been accomplished without passion.
世上没有任何伟业的成就能够离得开激情。
I have always regarded myself as the pillar of my life.
我一直认为,我才是我人生的中流砥柱。
If you focus on what you left behind,you will never see what lies ahead.
如果你只顾回头看,你就永远无法看到前路有什么。
Nothing you wear is more important than your smile.
不管如何穿戴,都不比带上你的微笑。
The wound is the place where the light enters you.
伤口是光照进你内心的地方。
It is not in the stars to hold our destiny but in ourselves.
我们的命运是由自己,而不是天上的星星掌握。
Nobody realizes that some people expend tremendous energy merely to be normal.
没有人意识到,有些人花了大量的精力就只是为了做个平常人。
An aim in life is the only fortune worth finding.
生活的目标,是唯一值得我们去寻找的财富。
Promise yourself to be so strong that nothing can disturb your peace of mind.
对自己承诺:要强大到任何事情都无法破坏你内心的和平。
We are the hero of our own story.
我们都是我们自己故事里的英雄。
Being brave means konwing that when you fail,you don't fail forever.
勇敢就是知道即使你失败了,你也不是永远失败。
When we seek to discover the best in others,we somehow bring out the best in ourselves.
当我们努力发掘他人的好时,我们往往也会看到自己最好的一面。
Wisdom is the power to put our time and our knowledge to the proper use.
所谓智慧,就是合理利用好我们的时间和知识。
When all else is lost,the future still remains.
即使失去一切,未来仍在。
You must expect great things of yourself before you can do them.
你必须先见到很棒的自己,才能做出很棒的事。
Sometimes you gotta get through your fears to see the beauty on the other side.
有时候,你要克服内心的恐惧,才能看见彼端的美景。
I celebrate myself,and sing myself.
我为自己欢庆,为自己歌唱。
No amount of money ever bought a second of time.
再多的钱无法买回逝去的光阴。
Love is the one thing that transcends time and space.
爱是唯一可以超越时空的东西。
I'm not telling you it is going to be easy,I'm telling you it's going to be worth it.
我不会告诉你这个过程很容易。我只会说,这一切都是值得的
让心中的火苗一直燃烧吧,不管那有多微弱,不管藏得有多深。
Success doesn't come from what you do occasionally.It comes from what you do consistently.
成功并不来自你偶然做了什么,而是你一直在做什么。
In the midst of winter,I found there was,within me,an invincible summer.
在隆冬,我终于知道,我的内心有一个不可战胜的夏天。
We love life,not because we are used to living but because we are used to loving.
我们热爱生活,并不因为我们习惯了生活,而是因为我们习惯了去热爱。
Family means no one gets left behind or forgotten.
家意味着没有人会被落下,或被遗忘。
A tiny change today brings a dramatically different tommorrow.
今天的微小改变,会带来全然不同的明天。
Well-timed silence has more eloquence than speech.
适时的静默比雄辩更有说服力。
A lot of people are afraid to say waht they want.That's why they don't get what they want.
很多人想要却不敢开口,这就是为什么他们想要却得不到。
We cannot choose the day or time when we will fully bloom.It happens in its own time.
我们无法选择自己盛开的时日。时候到了,他就会发生的。
Bear in mind that you should conduct yourself in life as at a feast.
要记住,你在生活中应该表现得向出席宴会一样优雅。
Patience is bitter,but its fruit is sweet.
忍耐是痛苦的,但果实是甜蜜的。
Summer friends will met away like summer snows,but winter friends are friends forever.
盛夏的朋友会像盛夏的雪一样融化流逝,但数九寒天的朋友会是永远的朋友。
There is an applause superior to that of the multitudes:one's own.
有一种掌声,比大众的掌声更优裕:那就是你自己给自己鼓的掌。
I have failed many times, and that's why I am a success.
我失败过很多次,这就是我成功的原因。
Change the way you look at things and the things you look at change.
改变你看待事物的方式,你所看到的事物也会改变。
Try to be a rainbow in someone's cloud.
试着去成为别人乌云里的一道彩虹吧!
Believe you can and you're halfway there.
相信自己能成功,你就已经成功了一半。
Today is your opportunity to build the tommorrow you want.
想要创造出明天,今天就是你的机会。
Be as simple as you can be.You'll be astonished to see how uncomplicated and happy your life will be.
尽量简单做自己,你就会惊奇地发现,生活是如此简单而快乐。
That's what I consider true generosity.You give your all, and yet you always feel as if it costs you nothing.
我认为,真正的慷慨是奉献所有,却仍觉得没有损失分毫。
The worst loneliness is not to be comfortable with yourself.
最糟糕的孤独是无法舒适地和自己相处。
We have to do the best we are capable of.This is our sacred human responsibility.
我们必须尽力而为,这是我们生而为人的神圣责任。
Forgiveness does not change the past,but it does enlarge the future.
宽恕无法改变过去,却能拓宽未来。
I have found that if you love life,life will love you back.
我发现,如果你爱生活,生活也会用爱来回报你。
Your children don't need you to be perfect.They just need you to believe in them.
孩子并不需要你是个完人,只需要你的信任。
I will love the light for it shows me the way,yet I will endure the darkness for it shows me the stars.
我将热爱光明,因为它为我指明道路,而我将人手黑暗,因为它想我展示繁星。
I'd rather regret the things I've done than regret the things I haven't done.
我宁愿为自己做过的事后悔,也不愿意为自己没做的事遗憾。
A flower cannot blossom without sunshine,and man cannot live without love.
花儿没有阳光便不能绽放,人没有爱便不能生存。
How many a man has dated a new era in his life from the reading of a book.
有多少人因为读了一本书而开启了人生的新篇章啊。
Health and cheerfulness naturally beget each other.
安康喜乐,相生相成。
If the entire world was one big machine,I couldn't be an extra part.I had to be here for some reason.
如果世界是一个巨大的机器,我就不会是多余的零件。我在这里,总是有原因的。
Kites rise highest against the wind,not with it.
风筝逆风才能高飞——而不是顺风。
The trees taht are slow to grow bear the best fruit.
长得很慢的树,能结出最好的果子。
Dads are most ordinary men turned by love into heros,adventures,story-tellers,and singers of songs.
父亲们不过是群普通人,但爱让他们化身英雄、探险家、故事家和歌者。
Never assume that you're stuck with the way things are.Life changes,and so can you.
永远别认为你无法摆脱现状,人生会改变,你也会。
You never find yourself until you face the truth.
面对现实才能认清自我。
Difficulties strengthen the mind, as labor does the body.
困难能磨练心志,正如劳动能强壮体魄。
The most profound statements are often said in silence.
最深刻的语句,往往是在沉默中说出的。
When I discover who I am,I'll be free.
当我发现自己是谁的时候,我就自由了。
A dream that you don't fight for can haunt you for the rest of your life.
没有为之奋斗的梦想会纠缠你一辈子。
We have only this moment,sparkling like a star in out hand… and melting like a snowflake.
我们只拥有此刻,星光一般闪过,雪花一般融逝的一瞬间。
You gave me a forever within the numbered days,and I'm grateful.
在有限的日子里,你为我创造出了永恒。我很感激。
To love is to receive a glimpse of heaven.
去爱,便能一窥天堂。
There is ugliness in this world,disarray.I choose to see the beauty.
这世上确有丑恶与混乱,而我选择看到美好。
One doesn't discover new lands without consenting to lose sight of the shore for a very long time.
不愿在看不见海岸线的情况下久久漂流,是不会发现新大陆的。
I'm gonna take all this negativity and use it as fuel and I'm gonna find a silver lining.
我要把所有的消极影响化作力量,我要找到失望中的一丝希望。
We are most alive when we're in love.
沉浸在爱中的生命式最鲜活的。
The charm of sunset makes me want to scurry home.
日落的魅力,让我想快步赶回家。
Wherever you go,no matter what the weather,always bring your own sunshine.
无论去哪儿,无论天气怎样,记得带上自己的阳光。
Plans to protect air and water,wildrness and wildlife are in fact plans to protect man.
那些保护空气、水和野生动物的计划,实际上是为了保护人类自己。
Luck is what you have left over after you give 100 percent.
幸运,就是你付出百分之百后剩下的东西。
Concern for someone else was a good remedy for taking the mind off one's own troubles.
关心别人是接触自身烦恼的良方。
Go confidently in the direction of your dreams!Live the life you've imagined.
自信地朝你的梦想前进吧!去过你想要过的生活。
A child is not a base to be filled,but a fire to be lit.
孩子不是要装满的瓶子,而是等着点着的火焰。
I adore simple pleasure.They are the last refuge of the complex.
我崇尚简单的快乐。它们是繁复世界最后的避难所。
When something is important enough,you do it even if the odds are not in your favor.
当一件事情足够重要时,即便缺乏胜算,你也会去做。
One man with courage makes a majority.
若有勇气,一个人抵得上千军万马。
Knowledge speaks,but wisdom listens.
知识会说话,但智慧是会倾听。
Live in the sunshine,swim the sea,drink the wild air.
去生活在阳光下吧,去畅游大海,去畅饮野外的空气。
I call architecture forzen music.
我称建筑为凝结的音乐。
Be alone,that is the secret of invention;be alone,that is when ideas are born.
独处是发明的秘方;独处是创意的摇篮。
Happy people build their inner world.Unhappy people blame their outer world.
快乐的人构建内心世界,不快乐的人责怪外在世界。
What makes you different or weird —— that's your strength.
那些让你显得与众不同或不寻常的地方,就是你的长处。
We are each responsible for our won life —— no other person is or even can be.
自己的生活只能由自己负责,没有别人,也不会有人代劳。
He who would travel happily must travel light.
想要快乐旅行的人必须轻装上阵。
I love you not only for what you are,but for what I am when I am with you.
我爱你,不仅因为你是什么样的人,还因为和你在一起时,我可以变成什么样。
The guy who takes a chance,who walks the line between the known and unkonwn,who is unafraid of failure,will succeed.
敢于冒险的人,游走在已知和未知之间的人,不怕失败的人,才会成功。
When a thing is done,it's done.Don't lock back.Look forward to your next objective.
事情做完了就是做完了。别回头,继续去寻找下一个目标吧!
The kind of beauty I want most is the hard —to—get kind that comes from within — strength, courage, dignity.
我最想拥有的美,是那种源自内在的、难得的美——那是力量、勇气、尊严。
In order to be irreplaceable one must always be different.
要想变得无可替代,就必须与众不同。
Wanting to be someone else is a waste of the person you are.
试图成为另一个人,便是浪费了成为你自己的机会。
Absence is to love what wind is to fire;it extinguishes the small,it enkindles the great.
离别之于爱,犹如风之于活:能熄灭微弱火苗,也能助长熊熊大火。
Although the world is full of suffering,it is also full of the overcoming of it.
虽然世界处处有苦难,但战胜苦难的例子也比比皆是。
turn 13 may 2020
You have to have confidence in your ability,and then be tough enough to follow through.
你要对自己的能力有信心,然后保持坚强、坚持到底。
little by little,one travels far.
跬步之积,也可达千里。
I realized when you look at your mother,you are looking at the purest love you will ever know.
我意识到,当你望向你的母亲时,你望着的是此生最纯洁的爱。
The chief proof of man's greatness lies in his perception of his own smallness.
一个人的真正伟大之处就体现在他能够认识到自己的渺小。
The most wasted of all days is one without laughter.
没有欢笑的一天便最是虚度。
The farther behind I leave the past, the closer I am to forging my own character.
我把过去抛得越远,便越接近于我自己锻造的自己。
Happiness is not a station you arrive at,but a manner of traveling.
幸福并不是你所抵达的站点,而是一种旅行的方式。
Youth is not a time of life;it is a state of mind.
青春不是年华,而是心境。
Anything looked at closely becomes wonderful.
在近距离的观察下,任何事物都会显得美妙无比。
If you want to succeed,you should strike out on new paths rathetr than travel the worn paths of accepted success.
如果你想成功,就应该去开辟新路,而不是走大家公认的成功的老路。
Here's to a vacation of no regrets!
为无悔的假期干杯!